CTC Competitions Committee meets in Barcelona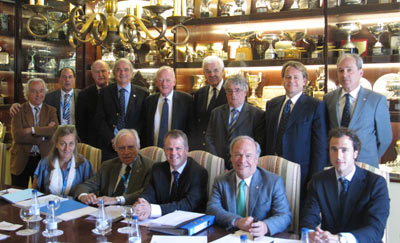 The Competitions Committee of the Centenary Tennis Clubs Association met in Barcelona on Monday to plan the organisation's official 2013 calendar of events.
The meeting was held at the Real Club de Tenis Barcelona-1899 to coincide with the first day's play at the Barcelona Open BancSabadell ATP World Tour 500 series event.
Amongst those in attendance was Tennis Europe President Jacques Dupré, who joined CTC President Juan María Tintoré, Committee President Petr Simunek, committee members Lars Myhrmann (Kung KLK) , Gunnar A. Streidt (LTTC Rotweiss-Berlin), Jurgen Buttkus (TC Geneve), Donald Macleod (The Cumberland), Garbhan O'Nuallain (FitzwilliamLTC), Pedro Navedo (RST La Magdalena), J. I. Soler Cabot (RCTB 1899), Marco Gillardelli (Counselor) and Berta Tintoré (CTC Secretary).
During the meeting, the Association – which currently includes 63 clubs worldwide each with over 100 years of history – discussed new membership applications and prepared the draws for the summer competitions.
In addition to confirming greater participation in the European zone, the CTC confirmed two events in Asia (one has already taken place, at the Delhi Gymkhana Club in India, while the other will be held at Yokohama International Tennis Community in Japan) and one at the Wanderers Club in South Africa.
Further details about the arrangements for this summer's events will be published here in due course.
The CTC was founded in 1996 and is recognized by the International Tennis Federation and is an Affiliated Member of Tennis Europe. The organisation's headquarters are at the Olympic Museum in Lausanne, Switzerland. Since 2010, EFG International Private Bank has been the Principal Partner of the CTC. For more information, visit www.centenarytennisclubs.org.